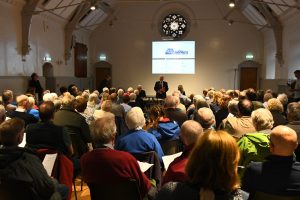 The Liberton Association was founded more than 30 years ago "to protect and promote the interests of the Residents in the Liberton area and, in particular to preserve the amenity of the Liberton area". That purpose remains as relevant today as it did all those years ago, with Liberton and areas nearby under constant threat of new and expanding housing developments, stretching our local services beyond their limits. There are immediate threats to our Greenbelt areas, greatly need for the preservation of the environment and the physical and mental wellbeing of Edinburgh residents and visitors.
Recently the Association has been reformed with many of the Committee standing down after many years of service. We are greatly indebted to them for giving their time and dedication to Liberton
The Liberton Association Committee is made up of local people who volunteer their time to ensure that we are serving the local community and continuing the work of preserving  and enhancing our local area amenities.
The role of the association involves monitoring planning applications, which may have a considerable impact on the community, monitoring local amenities' problems such as traffic control, pollution, infrastructure including the provision of schools, GP surgeries, shops and so on. We will strive to keep the community involved, well informed and provide guidance on how to manage problems or achievements as they arise.
We will do this by liaising with MSP's, Councillor's, Local Government, Police and relevant bodies such as the Liberton and District Community Council, The Cockburn Association, the Lothian Green Space Trust, the Liberton Gilmerton-Neighbourhood Partnership,  who all share our ambition to keep our area a healthy and desirable place to live in and enjoy.
The new Committee has created specific groups to address the important issues such as Planning, Social Media, Communications, Amenities and Distribution. We will meet regularly to ensure actions and problems are dealt with in a timely and effective manner.
We always need help from the community to keep the Association supported so please do not hesitate to offer any expertise or interest you may have.