Liberton Free Church – the lost church
M.P.Collingwood-Greater Liberton Heritage Project
In the area nows known as Ellen's Glen was formerly known as Stenhouse, at the junction of Ellen's glen Road and Ellen's Glen Loan, hidden in the undergrowth and by years of the dumping of garden refuse, lie the remains of a church long since forgotten.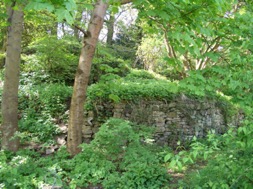 The 'Disruption' in the Church of Scotland in 1843 led to the breaking up of many churches and in our area this was Gilmerton church where the minister the Reverend Walter Fairlie along with many of his congregation joined the Free Church. Initially they met in halls but collected enough money to build their own church. There must have been some large donations for only four years later in 1847 their new church complete with steeple was opened in Stenhouse and named the Liberton Free Church.No photographs or drawings of the church have been found but the photograph below shows the outline of the steeple through the trees.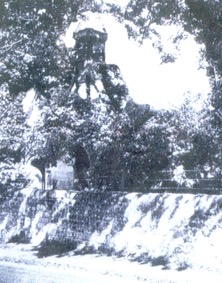 The first ordnance survey was being carried out and the surveyors kept detailed notebooks of their finds in each area (1). They reported that it was built in 1847 and described it as being 'a small neat church capable of accommodating 300'. Having measured the site and found it to be approximately 122 feet by 63 feet at its widest, the congregation  could not all have attended at once and possibly had no pews. The surveyors also stated that underneath the church there was a school 'taught by a competent master and mistress attended by about 50 boys and 30 girls …'.  
Rev. Fairlie must have been a man of some wealth as he built himself a manse on Lasswade road near the Ellen's Glen Road. The building is now the Northfield House Hotel, which was enlarged with several extensions over the years, and soon will be demolished to make way for student accommodation, planning permission applied for https://www.edinburghnews.scotsman.com/news/politics/council/edinburgh-hotel-could-be-demolished-and-replaced-student-flats-2904856).  Rev. Fairlie died in1856 and was succeeded by D.K. Guthrie, the son of the renowned Dr Thomas Guthrie (https://en.wikipedia.org/wiki/Thomas_Guthrie).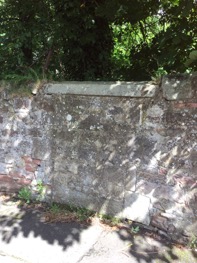 The congregation had quickly become too large for the building and in 1869 they moved to the new Liberton Free Church on Gilmerton road, now called Liberton Northfield.
The church at Stenhouse had a life of only 21 years but the building continued as a school until 1889 (2) when it moved to the new school at Liberton.
The building remained, initially used as a grain store for the mill at Stenhouse but it gradually deteriorated and collapsed in a storm in the winter of 1947/8 (4). The church tower had lasted until the end and when it fell its bell was still hanging – this however disappeared that night never to be found (4)
References 
Surveyors notebooks 1897 Historic Environment Scotland
Ferenbach C 1975. Annals of Liberton; Liberton Kirk Session.
Good G 1893.          Liberton in Ancient and Modern Times          Andrew Elliot; Edinburgh
Stenhouse G  2006 – Interview with longterm resident